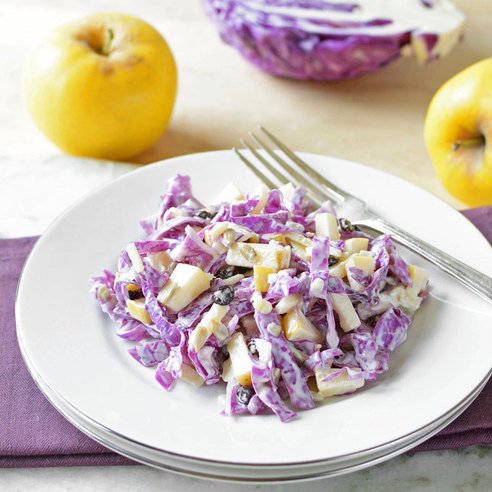 This bright and unique salad adds a splash of color to your winter table. It's creamy, crunchy, and perfect for pairing with your spicy winter soups and chili.
Author: Rachel Hanawalt
Recipe type: Salad
Cuisine: American
Serves: 6<
INGREDIENTS
1½ cup small-diced Opal apples (or other sweet variety)
4 cup shredded red cabbage
½ cup shredded sharp cheddar cheese
¼ cup sunflower seeds
¼ cup dried currants
½ cup mayonnaise
1 tbsp apple cider vinegar
1 tsp maple syrup
¼ tsp salt
black pepper to taste

INSTRUCTIONS
Dice apples and shred cabbage and cheddar cheese. Place in a medium mixing bowl with the sunflower seeds and currants and set aside.
In a small dish, mix together mayonnaise, apple cider vinegar, maple syrup and salt until smooth.
Fold the dressing into the salad ingredients in the medium mixing bowl. Season with black pepper to taste and serve immediately.

NOTES
Vegan Option: Use vegan mayo and non-dairy cheddar to make this a vegan dish.
For more recipes: Simple Seasonal