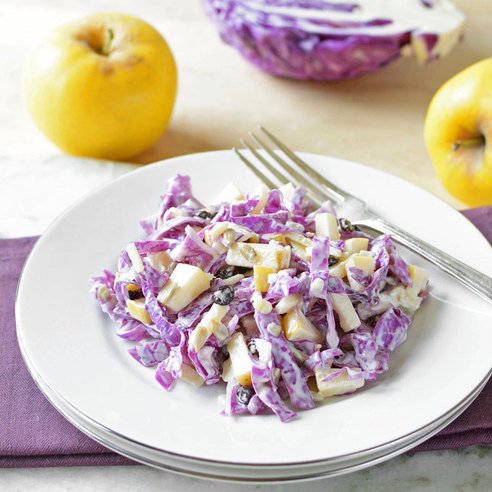 Today's recipe for Opal Apple Red Cabbage Salad is a sister recipe to my last post for Red Lentil Soup. The two dishes in combination constitute one of my go-to winter meals. The warmth and spice of the lentil soup contrasted with the creaminess and and the crunch of the apple and cabbage salad is a perfect match of bright colors and flavors during the cold and dreary months between Christmas and spring.
Even though I've used a variety of apples in this salad, I've come to love it with Opal Apples, for which this recipe is named. Their availability arrives a little later than many varieties of apples, peaking during the winter months. They are a non-GMO crossbreed between Golden Delicious and Topaz apples, and were first cultivated in Europe and the Mediterranean. They were brought to the U.S. in 2010 where they are grown exclusively by Broetje Orchards in Washington. So, I guess you could say that this is an exclusive apple! As I mentioned, I've enjoyed a number of varieties of apples in this salad, but if you want to give the Opal a try, I've seen them for sale at Whole Foods Market and Trader Joe's. If you hunt these golden beauties down, the reward is well worth it as they are crunchy and sweet with an almost fragrant and floral quality. Unlike any other apple I've tasted.
In regards to my cabbage, I've been getting lovely red cabbages from my CSA (crop share) as of late. So, despite it being chilly February, this is made from a fresh, local ingredient.
As far as recipes go, this one comes together pretty quickly. It uses a simple dressing with mayo, apple cider vinegar, and maple syrup. Yes, I splurge on mayo with this one… What can I say? I love real mayo on my slaw!
Next, sprinkle in some sunflower seeds, dried currants, and shredded cheddar, and you've totally got a crunchy, nutty, apple and cheese thing going on! It's a bit Waldorf-esque; an odd salad idea that totally works!
For more recipes visit Simple Seasonal
Ends.